We talk about a wide range of topics and enjoy sharing our culture and heritage every meeting.
We have a meeting on Tuesday at a large conference room in the central part of Kyoto from 19:00!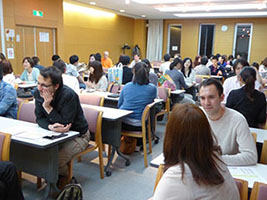 We talk about a topic in pairs in the first half of the meeting. We change pairs with every 10 minites. So, you can speak with many people.
There are many different topics such as "festivals in your home town", "your favorite movies", "your favorite restaurants", and so on. This is a great oppotunity for you to talk about your country's culture as well as learn about Japanese culture straint from the locals!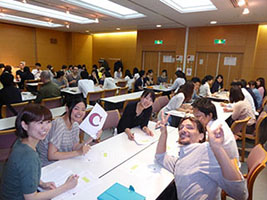 We then talk in groups in the latter half of the meeting. We enjoy talking while doing some tasks like "drawing a pie chart of your daily schedule", "drawing the figure of your room", or "writing your wishes on stripes". You can use English, Japanese, or both.
The meeting ends at 21:00. These meetings are free for foreigners. We use these prints in the meetings.
You can make even more friends in our events♪
We hold around 30 events annually like camping trips, day trips, parties, BBQ and so on!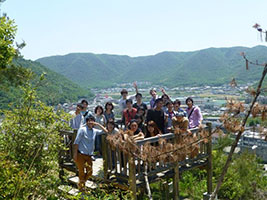 We hold various events to promote the mutual friendship among the members of our club. The biggest event are the camping trips. We have the camping trips for 2 or 3 times annually. We cook our own meals! We have been to Shionomisaki, Bizen, Amanohashidate, Awajisima, and so on. They are really good places for sightseeing. Of course, you can make many friends on the trip! Please visit our gallery to get a feel of how much fun these events are!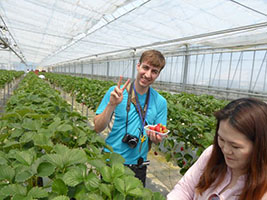 We hold one-day return driving trips on Sunday. You can experience various things such as, e.g., strawberry picking, making pottery, playing tennis, making glass art, visiting a beer factory, climbing a mountain and so on.
We have been to Nagahama, Fushimi, Tanba, Kobe and so on. Of course, you can join in the day trip even if you can not speak Japanese well.
Please check out our galleryto see what our day trips are like.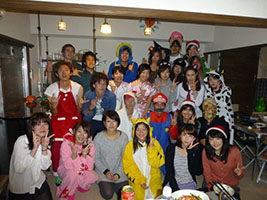 The parties are our simplest event to join in, since the are held for 2 hours or so at night. We hold it on Tuesday, Friday, Saturday, or Sunday nights. We have a Xmas party and a Halloween party. We also have a BBQ party.
The participation fee of these events are very affordable, since we are a nonprofit organization. A party costs 2000 yen including food and drink. Day trips cost around 4000 yen. Camping trips cost around 9000-18000 yen.
Please come and make many friends at the events!!